Credit cards allow you to purchase more expensive goods and services at any time, relieved because you have the opportunity to make repayments over a longer period of time.
Depending on the total consumption, the bank will require you to pay only the minimum amount, while you pay off the rest of the debt according to your means
The credit limit is determined based on your creditworthiness, and you can opt for a DinaCard credit card if you make payments primarily in the country and a VISA Gold credit card if you plan to use the card abroad.
Dina Credit Card
With the Dina Card credit card, you can pay for goods and services and withdraw cash in the country up to the approved credit limit.
The credit limit is approved in dinars (without currency clauses or retail price increase clauses).
The conditions are divided according to the types of clients. Choose one of the three types you belong to:

Clients who receive a salary / pension through Adriatic Bank AD Belgrade or have a minimum of EUR 500 in a savings account can receive a credit limit in accordance with their creditworthiness, increased by any optional deposit.
Clients who do not receive a salary / pension through our bank can get a credit limit in accordance with their creditworthiness.
Clients with a 100% deposit in the Bank receive a credit limit equal to the deposit.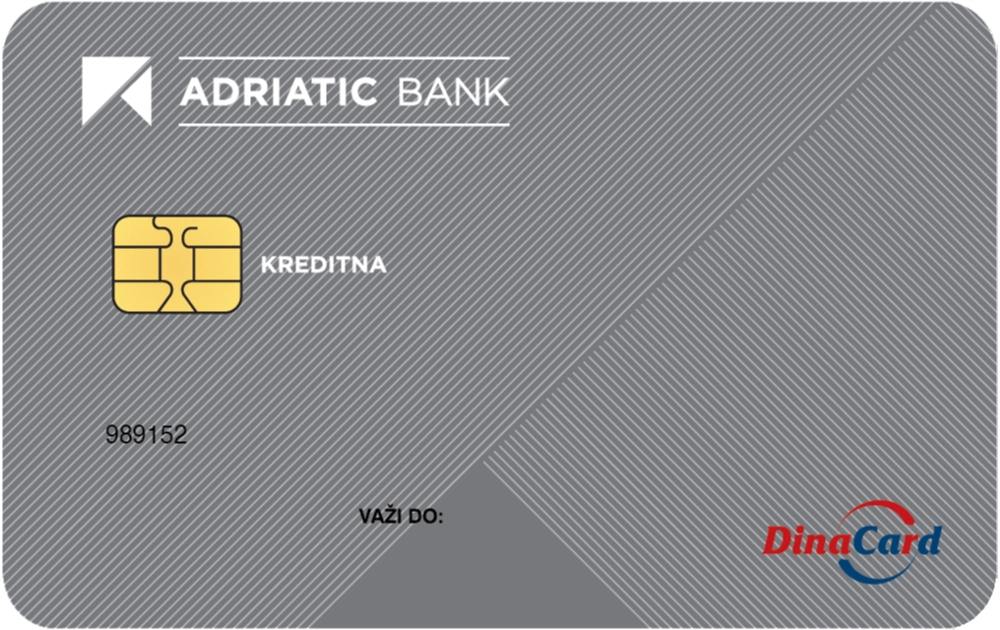 DinaCard credit card can be used at all points of sale and ATMs in the country and at over 1400 website addresses with access to funds 24/7
Easier to pay than cash and easier to track spending (where, when and how much you spend)
The annual membership fee is the lowest compared to other cards and amounts to only RSD 800 or no membership fees with the Premium package account
Security has been increased with the service of SMS notifications about completed transactions
The minimum amount of the credit limit is 300 EUR, the maximum amount is 5,000 EUR
Debt repayment is done through revolving credit
You determine the number and amount of installments during repayment, and the minimum monthly installment for repayment is 5.00% (1/20) of the used credit limit increased by associated costs.
The loan installment cannot be less than RSD 1,000
You can borrow up to the credit limit several times and pay it off until the expiration date of the card
Interest-free deferred payment up to 45 days
Along with the basic card, you can have two additional cards for persons you authorize
Clients and other clients of the bank are able to increase their credit limit by making a deposit of no less than EUR 100.
Approved credit limit
RSD 100,000.00
Currency in which obligations are paid
RSD
Period of time
24 months
Indexing criteria
Does not have
Nominal interest rate
19.59% annual, fixed
Effective interest rate
21.61%
Revolving percentage
5%
First repayment installment
RSD 6,451.26
The sum of principal, interest, fees and other expenses
RSD 121,628.81
Total fees and other expenses

Annual membership fee RSD 800 (calculated for 2 years in the amount of RSD 1,600)
Credit bureau 246 RSD
Bill of exchange 50 RSD